Hey everyone, as promised I have another trip to share for those of you who are unable to make it out into the field. Several days ago Marley and I packed into the Jeep and drove up into the mountains to spend two days in a remote area. I'm committed to getting out as much as I can and to try documenting my adventures the best I can through both video and photographs. This was a new area that I had previously scouted and was excited to camp at even considering the poor weather. It rained the whole drive into the area and the trails were in very bad shape, still no match for the Jeep.
The spot I had chosen to camp was nestled and hidden away well in the forest, perfect spot for some stealth camping. I had brought a good amount of cold weather gear not really knowing what to expect on this trip. I first set up a 5×8 tarp as a temporary cover to keep my camera gear and equipment out of the rain.
After I set up the tarp I dug out a good size fire pit and spent some time digging around for any dry wood I could find. Most everything was wet so I had to look under the base of some of the larger trees for wood that was dry.
Once I got a fire started I pulled most all the other gear out of the Jeep to set up a full camp that would be home for the next two days.
After setting up the tent and making sure all the gear was in order and safe from the rain I pulled out the Daystate Redwolf Safari in .30 caliber. This is a rifle that I reviewed months ago and since then have added to the "Airgun Survival Challenge" as part of a vigorous testing process.
This high end Daystate is "electronic" so I wanted to test this rifles performance under extreme wet and cold conditions. My experience is that electronics don't function well at all under these types of conditions. A great example of this is my camera gear, usually anytime I have an issue or failure with camera equipment is due to cold, not necessarily moisture. After having some coffee Marley and I headed away from camp while the rain stopped to scout out the area and look for animal activity.
We headed along a small animal trail that led us up to the top of the mountain offering some great views of the valley floor. This area has an abundance of animals such as Bear, Coyote, Bobcats, Mountain Lion, Deer, Cottontail, Fox and Jackrabbit. This area is about 15 miles South of where I normally camp so the hunting is quite a bit different due to the terrain.
After glassing the valley floor I did spot a Jackrabbit way out in a field at over 430+ yards, way out of range for my skill level and rifles capability.
This looked to be a great spot to come set up the following morning and see if we could find a target within 150 yards. Part of this trip was to look for areas to set up call stands for Coyotes and to look for other active areas for Ground Squirrels. Unfortunately the colder weather keeps most of the animals hunkered down and much less active than warm sunny days. After spending another hour glassing with no activity other than a few birds we headed back towards camp, just in time for the heavy rain.
Back at camp I had decided to dig another fire pit and to move the tent partially under the tarp to keep warm and give us more space to move around comfortably out of the rain. By this time it started snowing pretty heavy making it near impossible to collect anymore firewood for the night. I luckily had stashed enough to get us through the night but most of it was fairly wet.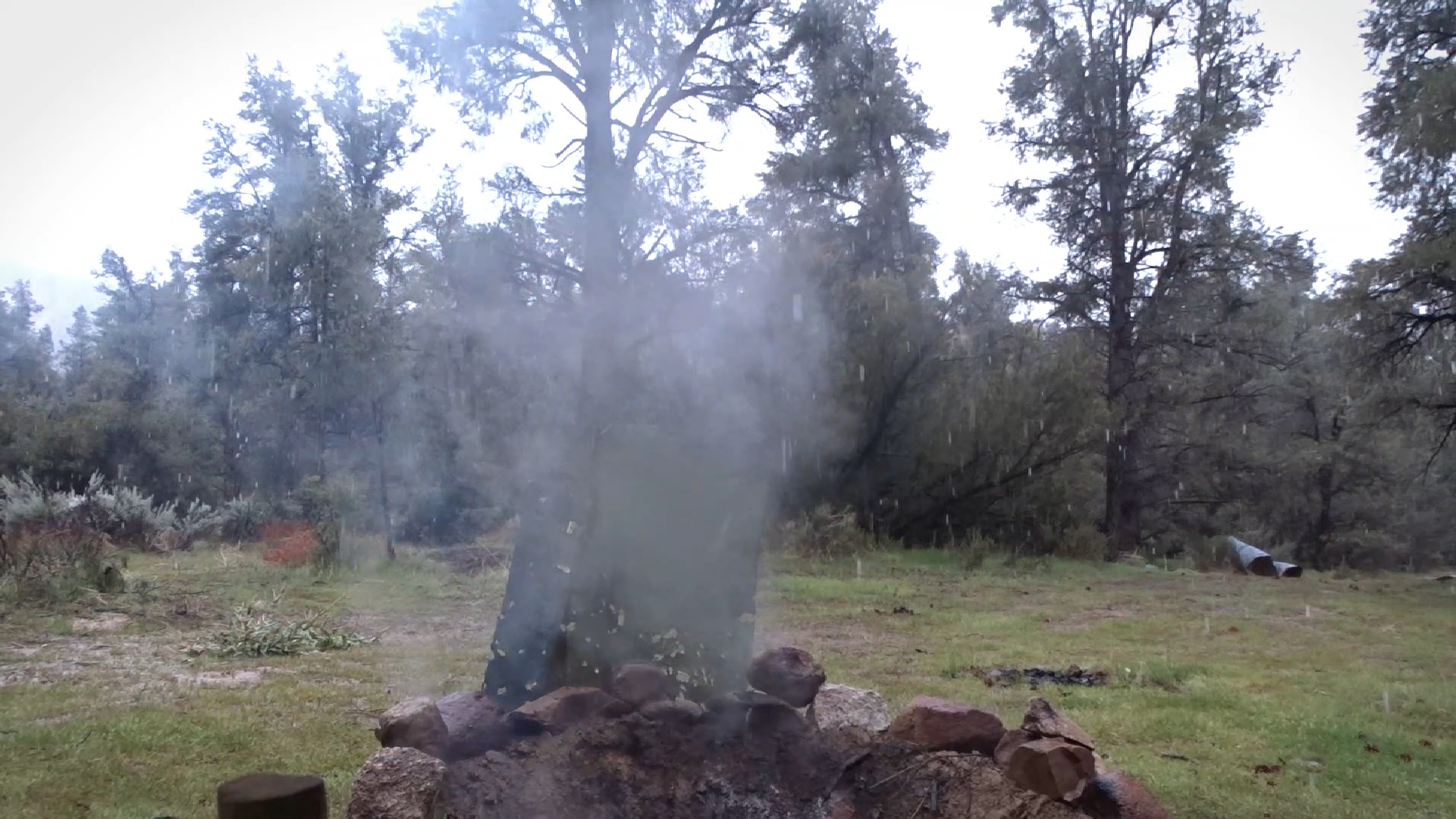 One one of my hikes to collect firewood I found some old  metal sheeting that I thought would make a decent fire reflector, looked like crap but definitely better than nothing.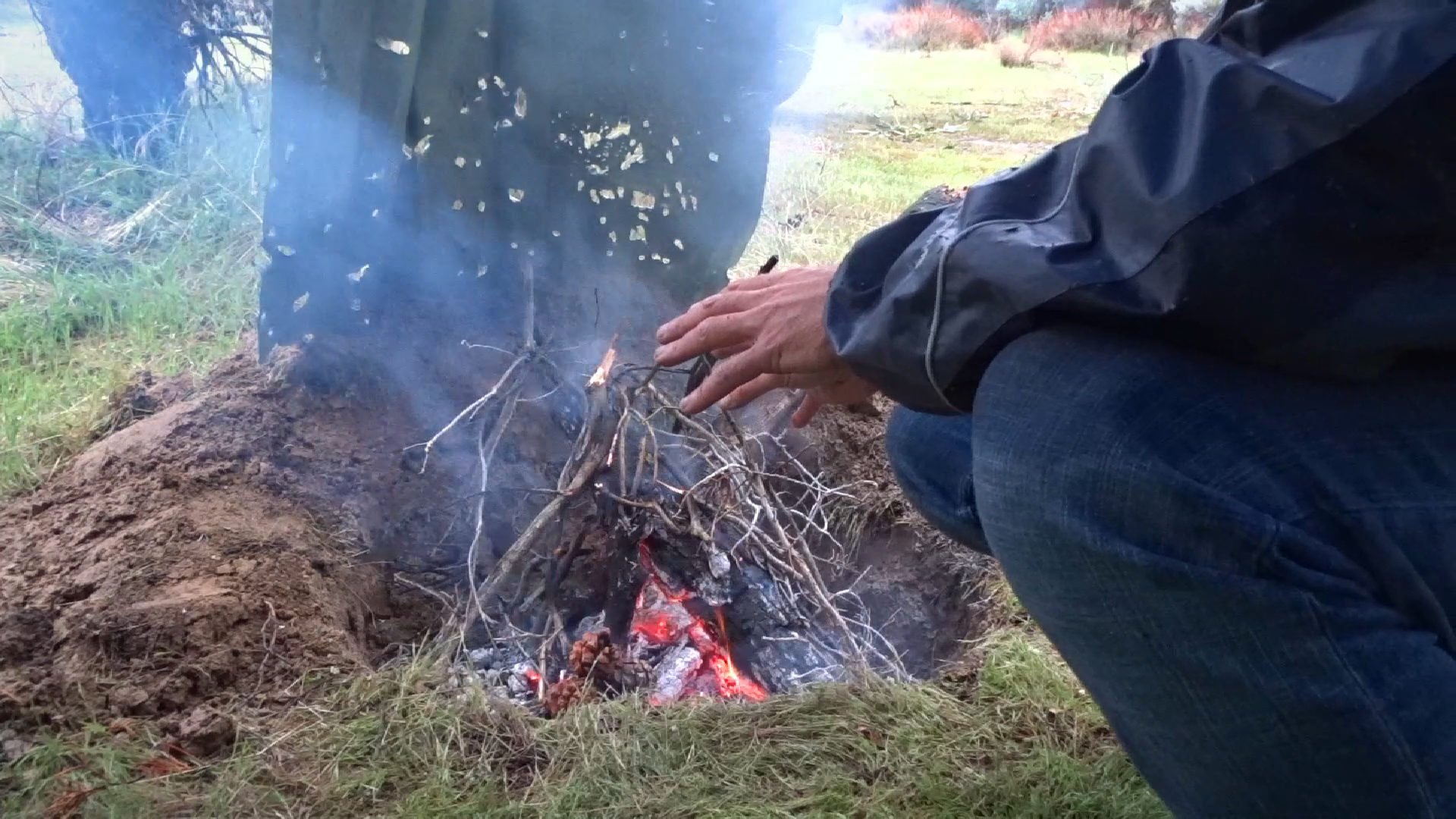 As part of the testing of the Safari I decided to leave the gun out in the elements through the night to test out the electronics true durability. I hate to do it but felt it was important to document as well as something I just had to know for myself.
As it got later into the evening I made myself some coffee and filmed a few segments of video talking about a past trip I had in some nasty weather. I'm lucky to be able to do these adventures often and to be able to bring you guys along the best I can.
Marley was giving me the stink eye because the rain was keeping her from going out and hunting the bunnies. She enjoys these adventures just as much as I do regardless of the weather conditions.
Later that night the snow and rain came pretty heavy ultimately making it clear we had a long, rough night ahead of us. Thankfully I was wearing layers and brought some extra pants and socks. I was soaked as can be!
---
The following morning Marley and I awoke to what looked like a winter wonderland, thankfully the rain and snow had stopped. Marley and I had a long and very cold night, didn't sleep much more than about an hour.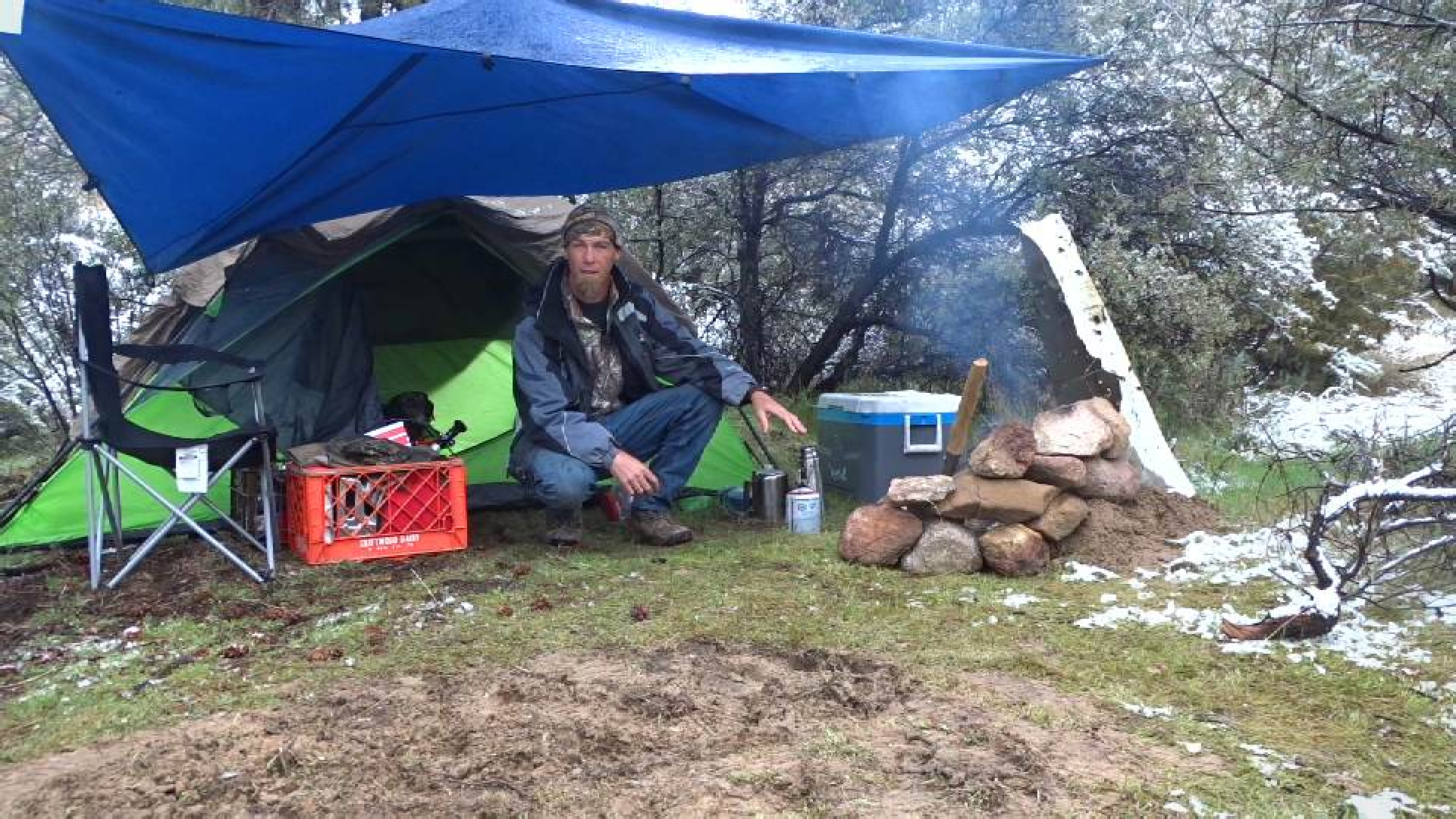 After making some much needed coffee to warm up I headed over to check out how the Safari survived the cold night alone against the elements.
I picked up the Safari, shook off the snow and water and took off the safe to see if the computer would come out of sleep mode. The computer came on right away and seemed as though nothing had happen at all.
To be honest I didn't think the gun would even turn on due to the low temperatures possibly draining the battery, this is usually the case with other electronic devices. For a rifle costing near 3k it makes me feel a little better that it's able to survive an extreme such as this. The Safari is no doubt a stunning rifle in looks and performance, worthy of a good Coyote gun.
The plan was to head away from camp down an old mining road that would take us higher into the mountains to a few of the overlooks from the night before. After airing up the rifle and loading my pack we set out around 8:30am.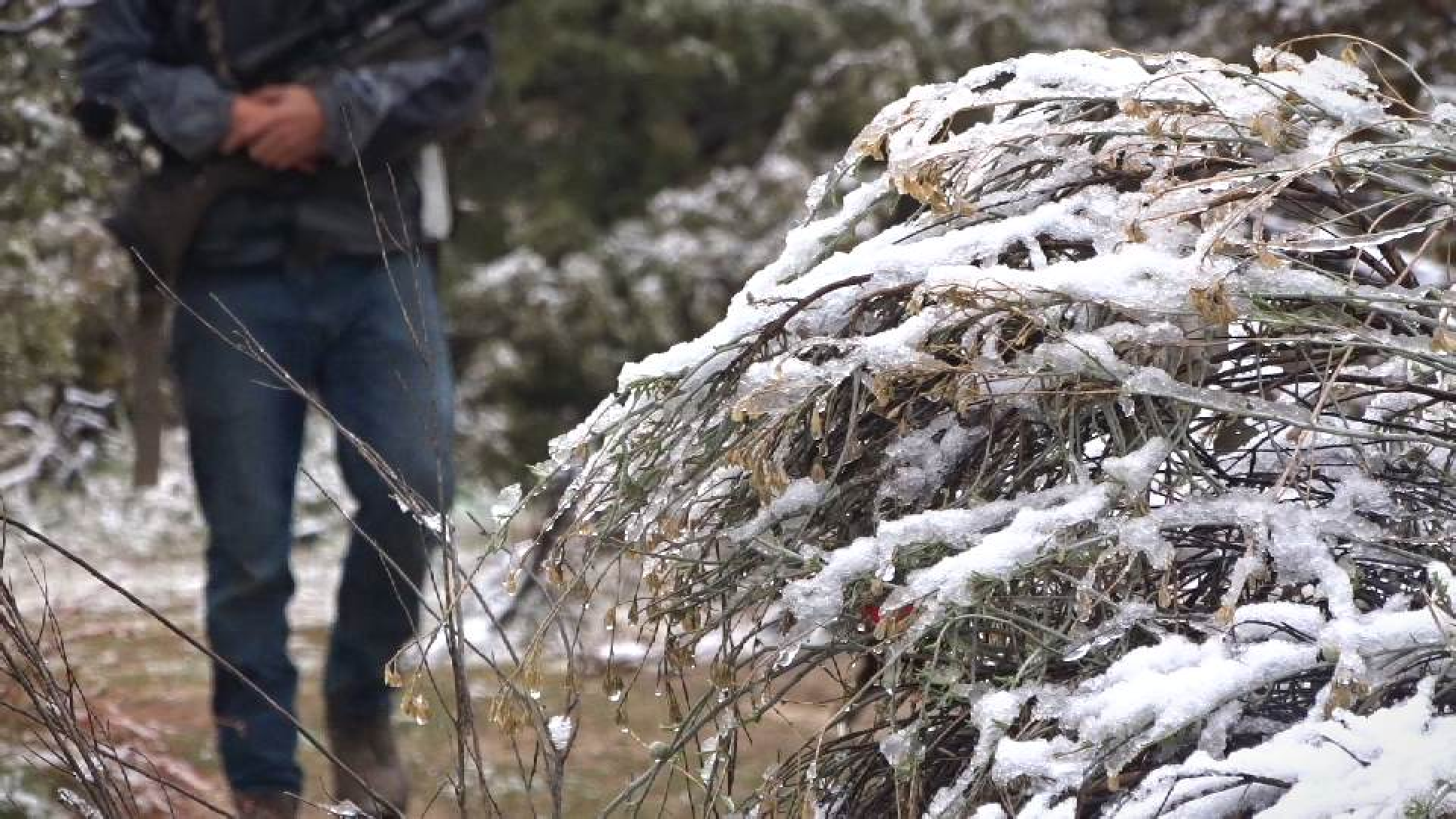 Our first stop was on the overlook where we spotted the Jackrabbit the night before, it was very cold and everything was covered in ice.
Usually cold weather keeps the animals pretty hunkered down and the activity is slim to none until the sun comes out. We spent some time on the hill seeing no activity in any directions, not even the birds were moving around. Marley and I continued down the hill through the field that would lead us to a thicker area where I did spot a good size Cottontail at 40 yards away.
With three months left until Cottontail season this guy got a pass, Marley looked at me with the "What are you thinking"?? eyes. haha She wants a bunny very badly!! Poor girl will have to wait. We hiked about another mile before we came to a large bluff that overlooked a steep burned out canyon with miles of animal trails.
This looked to be the perfect place to set out the electronic coyote caller for a few minutes. I ran the caller for about 5 minutes with the Jackrabbbit in distress, this usually works in most areas I hunt. My experience with coyote hunting is to only spend a few minutes running each stand, more than that is a waste of time. Usually the right spot will pull one in fairly quickly, sometimes within only a few minutes. I was just happy to be out with Marley and to get to explore a few new areas that I could venture back to when the weather is better. I really think this spot was a good one under different conditions. After packing up the caller we set back towards camp making a few stops along the river to check for tracks.
The weather was not improving so we made our way back to camp to have some lunch and to start packing everything away in the Jeep. This area is thankfully pretty close to home so I plan to return with Terry to do some more hunting. As bad as the weather was it was nice to be able to test out my skills with setting up in rain as well as getting to weather test the Safari. I was sorry that the hunting was unsuccessful but as usual we never have any guarantees, the entire experience is most important. I learned some new spots, new skills and memories that will last forever. I'm glad I was able to bring you along on this adventure and will enclose a more detailed video documentation. Hope everyone stays healthy and safe!
Cheers,
Dana
https://i0.wp.com/mountainsportairguns.com/wp-content/uploads/2020/04/snapshot140.jpg?fit=600%2C338&ssl=1
338
600
Dana
https://mountainsportairguns.com/wp-content/uploads/2016/11/imageedit_15_5568536590-e1569520079186.png
Dana
2020-04-09 23:23:47
2020-04-10 12:25:01
Bad Weather Airgun Snow Camp